If you're like most people, chances are you have a lot of stuff you don't need, just taking up space in your house. Whether it's old clothes, furniture, toys, or anything else, getting rid of that stuff can be a real pain. The good news is that there's an easy solution: renting domestic skip bins from Junkyard Skips.
Whether you're doing a house clean-out, renovations or spring cleaning, we have a range of sizes to suit your needs. Our team is experienced in handling all types of waste, from general rubbish to hazardous materials.
Benefits of a Skip Bin
Skip bins are convenient. The biggest benefit of renting a skip bin is the convenience factor. Rather than having to haul all of your junk to the dump yourself, you can load it into the skip bin, and we'll take care of it for you. This is especially useful if you have a lot of heavy or bulky items that would be difficult to transport on your own.

Skip bins save time. Not only are skip bins convenient, but they also save you a lot of time. Rather than making multiple trips to the dump, our team will pick up the skip bin when it's full. This saves you valuable time that you can use for other things (like enjoying your newly decluttered home).

Skip bins save money. Hiring a skip bin can save you money in the long run. For example, if you were to hire a company to come and remove your junk for you, they would likely charge by the hour or by the amount of waste they removed. With a skip bin, you simply pay a flat rate for the rental period, regardless of how much junk you put in it. This can save you quite a bit of money, particularly if you have a lot of trash to get rid of.
How to Use A Skip Bin
Using a skip bin is easy! Just follow these simple steps:
-Fill the bin with your household rubbish or DIY project debris. Be sure to stay within the weight limit!
-When you're finished, give us a call, and we'll come to pick it up. It's that easy!
-If you need the bin for longer than expected, no problem! Just give us a call, and we'll extend the rental period for you.
Domestic Skip Bins Sizes & Pricing
No matter how much junk you need to get rid of, we have a skip bin to suit your needs. Our skip bins are available in the following sizes: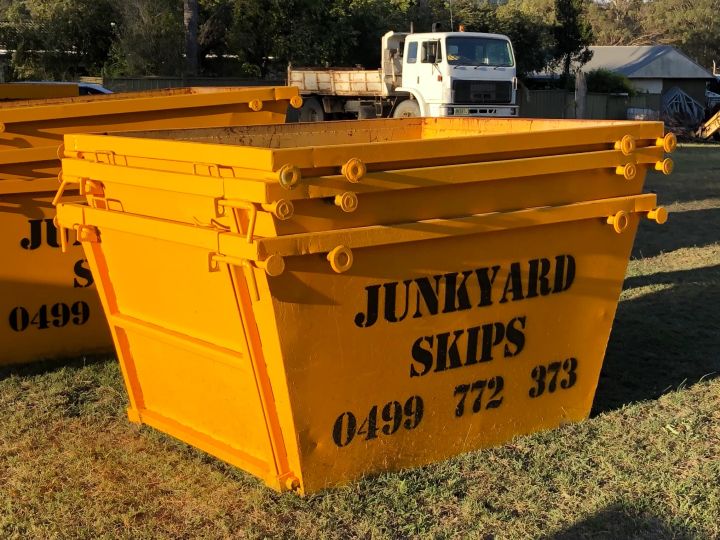 General Waste & Domestic Skip Bins
As you can see, there are many benefits to renting a skip bin for your next household cleanup. Skip bins are convenient, save time, and even save money. So what are you waiting for? Contact Junkyard Skips today, and let us help you get rid of your junk!
*Price Estimate ONLY. Prices may vary.